by Greg Eno
By the time you read this, the turkey is likely in the oven, or in your stomach. The football game is on the television—-and that is probably the case, as there is football on the tube from 12:30 until 11:30 at night. The family arguments are either in full swing or the cops have been called. And the cranberry sauce was forgotten in the fridge.

It's kind of routine on Thanksgiving for bloggers to make a laundry list of things they're thankful for. I could do that; after all, I am just as blessed as the next guy.

But I thought it might be fun to present to you a list of what otherpeople should be thankful for—-if I may be so bold.

Detroit mayor-elect Mike Duggan should be thankful for Tom Barrow, and the ne'er do-wells who tried to keep Duggan off the ballot.

The Republicans should be thankful for Obamacare's shaky rollout, for taking the GOP's ridiculous efforts to shut down the government off the front page.

Comedians should continue to be thankful for Sarah Palin.

Everyone should be thankful for Google.

Lox should be thankful for bagels. All food should be thankful for bacon.

Dallas should be thankful for Fort Worth, Minneapolis should be thankful for St. Paul, and all cities should be thankful for Gary, Indiana.

Rakes should be thankful for leaves. Gutters should be thankful for rakes.

Everyone should be thankful for garage door openers.

Mice should be thankful for fields.

The sun should be thankful for the moon, because the former needs its rest.

Scrambled eggs should be thankful for omelettes.

Collision shop owners are thankful for texting. And bad drivers.

Conspiracy theorists should be thankful for Jack Ruby.

Barbers should be thankful for Mondays.

Dogs are thankful for whatever they can get. Cats think everyone should be thankful for them.

Men are thankful for beer, sports and cars. Women are thankful for a conversation.

Tuxedos are thankful for weddings.

Ham is thankful for rye. Capers are thankful for nothing, so far.

Insomniacs should be thankful for the Internet. And vice versa.

Bicyclists should be thankful for sidewalks, but they don't seem to be.

Everyone should be thankful for revolving doors. No one should be thankful for pinatas.

Times New Roman should be thankful for Microsoft Word.

Fame should be thankful for its 15 minutes.

Miley Cyrus should be thankful for lecherous men. Lecherous men should be thankful for Billy Ray.

You should be thankful that I reminded you about the cranberry sauce.

Happy Thanksgiving.
by Greg Eno
Rob Lowe is too good looking, that's it.

If you looked up Hollywood Handsome in the dictionary, there Lowe's photo would be. The rock jaw, the steel blue eyes, the wavy dark hair. He was born to be on the screen. He came out of the womb looking for his mark. His first words were likely, "Feed me on my good side."

Lowe is too good looking—-that's all I can think of. Because he never gets credit for being one of America's great actors.

There's a mystique formulated by moviegoers and critics that says if you're pretty enough to launch ships or handsome enough to stop traffic, then you're not acting up there, you're mesmerizing the audience.

That must be why Lowe, 49, is treated like just another pretty face.

He hasn't won anything yet, which is a crime. Lowe has been nominated a few times for awards—-most notably for his work on The West Wing. But he's come away empty every time. There must have been someone less attractive going up against him.

Just because you're so good looking that it makes a guy like me want to cry, doesn't mean that you can't act your way out of a paper bag.

Lowe is lighting it up now on Nat Geo's Killing Kennedy, playing the 35th president in a movie that concentrates on the lives of JFK and Lee Harvey Oswald as they were on a collision course in history, culminating on the tragic events of November 22, 1963.

Lowe as President Kennedy isn't a square peg in a round hole. He's fantastic—-as usual—-as Kennedy, nailing the late president's Massachusetts dialect, which other actors who have played JFK have butchered, quite frankly.




We first met Rob Lowe as he was a member of the so-called "Brat Pack" of actors who took Hollywood by storm starting in the mid-1980s. Serious Lowe fans trace his career even further back, as Sodapop Curtis in The Outsiders, released in 1983.

My first Lowe memory was his turn in1986's About Last Night…, as he played Danny Martin, who has a moment of weakness with Demi Moore's Debbie, which leads to an ill-advised decision to move in together.

I have watched the film many times, and each time I am struck by Lowe's acting chops, even at the tender age of 22 that he was when the film was released. Part of my gauge of an actor is what he or she does when there is no dialogue. It's when Lowe doesn't speak in ALL that he's at his best.

I can go on and on. There was the villain Lowe, as he played evil yuppie Alex to James Spader's straight-laced Michael Boll in 1990'sBad Influence, which I maintain is one of the most underrated films about the human condition and vulnerability to manipulation as any that has even been made.

Lowe was chilling in Bad Influence, accompanying his twisted mentality with that handsome smile all the way.

I must admit that it hasn't helped Lowe's cause that he's made some simply God awful movies, and has lowered himself in the process. We can also talk about sex tapes and a bizarre Academy Awards song and dance with Disney's Snow White, but that's getting off track.

I like Rob Lowe. And I liked watching him in Killing Kennedy, although the work wasn't terribly notable for being anything of the cutting edge variety. As far as I'm concerned, anytime you can play a U.S. president and not besmirch the office, you've done OK. Lowe was certainly not out of place as JFK.

Rob Lowe has come a long way since playing Sodapop Curtis in a coming-of-age, cult flick.

If only he wasn't so easy on the eyes, maybe he'd be taken more seriously as an actor. Maybe he'd start winning some awards.

Lowe isn't just another pretty face. He's just another pretty face who can act. Like, as in his rear end off.
from the archives (May 23, 2013)…..
First, if Benedict Cumberbatch existed in a different era, we wouldn't know him as Benedict Cumberbatch.

He'd be Peter Lawford, or Gary Cooper, or Cary Grant.

Any Hollywood producer or press agent worth his salt would never let Cumberbatch, yet another British invader who is captivating female Americans, keep his given name. At the very least, the movie folks would have Cumberbatch use his two middle names—-Timothy Carlton—-as they Frankensteined another star.

Timothy Carlton—-now THAT'S a movie star's name, right?

But this is a different time. Actors don't use stage names so much anymore. Even if you're Benedict Cumberbatch, which actually sounds like a villain from a Dickens Christmas novel.

No matter what you call him—-and his overwhelmingly female fans (notably my wife and daughter) have a boatload of cutesy nicknames for him—-Cumberbatch will likely be known as something else before long: one of the world's greatest actors.

I've given Johnny Depp that honor, and I am sticking to that. But Cumberbatch, currently wowing moviegoers in Star Trek: Into Darkness, will at the very least be known as one of the 21st century's greatest movie villains, should he pursue those roles.

This isn't to say that Cumberbatch only plays bad, good. His turn as BBC's Sherlock is proof of that.

Cumberbatch is 36 (he turns 37 in July). There's no telling where he can go from here.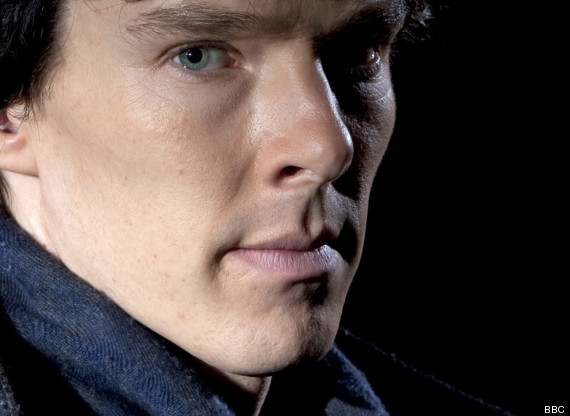 Benedict Cumberbatch

He has the good looks, number one—-albeit decidedly British in nature, with the high cheekbones and the tall, gangly flair. He's got the thinness of Cary Grant, the hair of a young Michael Caine, the legs of John Cleese and the eyes of, well, he may be the first one to have eyes like that.

Cumberbatch's eyes are almost another actor within the actor. I'm male and even I acknowledge that one can get lost in Benedict's eyes like a waywardchild in a forest. The eyes can be cold and calculating. They can be introspective and even vulnerable. What they always are, are engaging.

Cumberbatch, in Star Trek, plays John Harrison, an apparent rogue Starfleet agent who has some sort of vendetta against his former employers. It's a vendetta he displays with lots and lots of weaponry and ruthlessness.

Harrison is a driven, focused, determined man. Cumberbatch delivers Harrison's lines with an ample serving of impending doom. With Harrison, the next atrocity is just around the corner, and you're powerless to stop it.

By the way, there's irony in the Harrison character, as it pertains to Cumberbatch, because there's a funny name thing going on with Harrison in Star Trek that I won't spoil.

Cumberbatch steals the show in Star Trek, and that's starting to become commonplace for him.

He'd been acting in almost total anonymity in the states until American viewers found him on their BBC America channel of their local cable or satellite provider, playing Arthur Conan Doyle's Sherlock Holmes, modern style.

As Holmes, Cumberbatch is quirky, gangly again, incredibly smart and completely unaware of his attractiveness. All he wants to do is solve crimes. To do so, it's almost as if his Sherlock needs to divorce himself from normal human emotion. But yet it's there, in subtle scenes—-Sherlock's human side. It's just not there all that often. More accurately, it's only there when Cumberbatch wants it to be there.

That's part of the greatness of Cumberbatch, the actor. All great actors have it—-the ability to call on different emotions, or emotions, period, in order to make any particular scene believable. In Cumberbatch's case, it's also his ability to call on lack of emotion—-that cold, calculated stuff—-to stop the audience in their tracks.

In Star Trek, we see a villain who'd just as soon cut out your heart and eat it than crack even a slight grin. John Harrison isn't one of those bad guys who giggles and smirks and taunts his prey. He's not the guy who looks like he belongs in a straitjacket. Rather, Cumberbatch's Harrison has the concentration and focus of a heart surgeon, only he's not there to fix your ticker, he's there to suck it up to your throat.

Cumberbatch has lots of stuff in the works. His Wiki page lists four other projects all due out in 2013. I like that. The only thing better, for a moviegoer, than a good actor is a good actor who works a lot. Again, I point to Sir Michael Caine (whose real name is Maurice Joseph Micklewhite, by the way).

Keep your good eye on Benedict Cumberbatch. Lots of the media in the states like to think of him as "that actor with the funny name" (he gets asked about it ad nauseam). But those who have followed his career—-so far it's mainly been the ladies—-know that this is the next big star in the making.

Soon the men will realize it, too. And the press will have a lot more to talk about than Cumberbatch's name.

There'll be his legacy, for one.
by Greg Eno
Playing Whack-a-Mole is never good if you're in political office. It's best left to the arcade world.

You know the game called Whack-a-Mole, right? You insert your quarters, grab the plastic mallet, and whack as many mole heads as you can in the allotted time. The heads pop up from different holes, at unpredictable times and locations in front of you. It's a harried, frenetic little game.

It's good arcade fun, but not so fun if you're elected. Even worse when you're the Most Powerful Man in the World.

President Obama is playing Whack-a-Mole, and it's killing his second term. Maybe his presidency as a whole.

The president, these days, is reduced to going before the American people and apologizing for a website. And, for being less than forthright about whether people could keep their existing health care coverage under the Affordable Care Act. And he's making policy changes to the ACA on the fly.

It's all Whack-a-Mole stuff.

As president, you always want to move forward. John Kennedy said he sought the presidency because "it's the center of action."

The last thing you want to do as president is spend all your time fixing mistakes and saying you're sorry.

Obama's second term has ground to a halt. Some of it is his doing, some of it isn't. There's nothing moving forward. He's stuck in this "Obamacare" rut, like a man in quicksand. He has to keep whacking moles.



The Whack-a-Mole thing is what turned Dave Bing's run as mayor into vapor. I'm not sure if Bing will ever be properly judged on his being mayor of Detroit, because he never really governed—-he played Whack-a-Mole. His time to run was 10-12 years prior. By the time he decided to jump into the fray, things were so far gone, he couldn't govern for the future because he was too busy trying to fix the past.

Obama is being attached to the ACA at the hip, as he had hoped, but now it's for all the wrong reasons.

The stock photo of the young lady on the Healthcare.gov website is becoming more iconic than the law itself.

Maybe this clunky roll-out of the ACA—-and it has been the clunkiest—-will correct itself and in time, millions of Americans will be happily signing up for health care as easily as they can buy something online from Amazon.com.

Maybe.

But even if that time does come, will it come soon enough to erase the embarrassment of how unprepared the government was when the curtain was raised on the ACA on October 1?

I can only imagine how apoplectic Obama must be behind the scenes. It's amazing that no one of any significance has been fired. This roll-out has made the president looking like a political eunuch. I wouldn't want to be the person or persons who is in any way responsible for making the president look anything other than presidential.

The president keeps putting quarters in the machine. It's not a good way to govern. In fact, it's the worst.
by Greg Eno
I have a popcorn problem. Namely, that I don't like to share it.

I am not normally an ungenerous person, but when it comes to popcorn, I prefer it all to myself, thank you very much.

This popcorn hoarding only applies to when I am at home—-mainly because when we go to the movies as a family and I buy a tub (for $7), it becomes darn hard to keep other fingers out of it.

I admit it, I turn into a jerk when it comes to popcorn.

I make it late at night, typically, because that's when everyone else, including my 88-year-old mother-in-law, no longer wants to eat…popcorn.

They can eat whatever the heck else they want, but I frown on any popcorn eating from them if it's past 11:30pm—-because the only one who should be eating popcorn that late is I, of course.

Part of this popcorn non-sharing is because I gussy it up a certain way—-and it's a way that won't fly with others. Therefore, if I let them in on my corn, I have to tone down my way of eating it, and that's simply unacceptable.



What I do is sprinkle some ground cayenne pepper—-or chili powder if desired—-onto the freshly-popped corn, then drizzle it with a liberal amount of topping. The topping is typically store-bought, and comes in plastic bottles—-a mix of oil and artificial butter flavor and food coloring. Kind of like the topping you get in the movie theater.

I ran out of said topping last week, so in desperation I made my own: I melted a stick of butter, then added one part (slightly more) of vegetable oil. I then poured my concoction into a glass bottle with a shaker top, normally reserved for vinegar or oil for salads.

The bottle is kept in the fridge, and whenever I desire popcorn, I pop the bottle into the microwave (minus the metal shaker top, of course) and put it at a very low power setting so the mixture warms just enough to shake onto the popcorn.

This is, of course, until I replenish my supply of store-bought topping.

Anyhow, I am fierce about my popcorn. I don't like it when someone else wants some. I will ask, if people are still awake, whether they want popcorn—-and I secretly hope they say no.

It's the only food I am like that about—-which is saying something, because I likes my food.

Oh, and the popcorn is never of the microwave bag variety. I use loose popcorn, poured into a 1/3 cup measure, and I use a microwaveable popper (Orville Redenbacher) that my wife bought me for Christmas in the 1990s. It tastes fresher this way.

I then eat the popcorn, admittedly, like an animal. I stuff it into my gob by the handfuls, and I don't come up for air, unless it's to drink Pepsi (the best beverage that goes with my popcorn). I can polish off a big bowl in about 15 minutes.

I don't want to share my popcorn. And I never will, unless it's begrudgingly.

I'm funny that way.
CourtneyClare: Stop Overplaying Songs!
Have you ever heard the song "Royals" by Lorde?

Alternatively,

Another way to ask that question is,

Have you ever listened to the radio in the past month?

See, I really like the Royals song,

But there's one problem-

It's so overplayed!

If I turn on the radio, I can't get away from it.

And…
I get songs stuck in my head all the time, but it's not the radio, it's just me!